August 12, 2020 – HIGH SCHOOL SPORTS
The North Carolina High School Athletic Association has announced that high school sports in North Carolina will not resume until November.
The decision, passed by the Board of Directors Tuesday night, spreads the sports which traditionally take place during autumn throughout the winter and spring months. The domino effect from that decision means changes for all sports schedules during the 2020-21 school year.
CLICK HERE for PDF version from the NCHSAA website.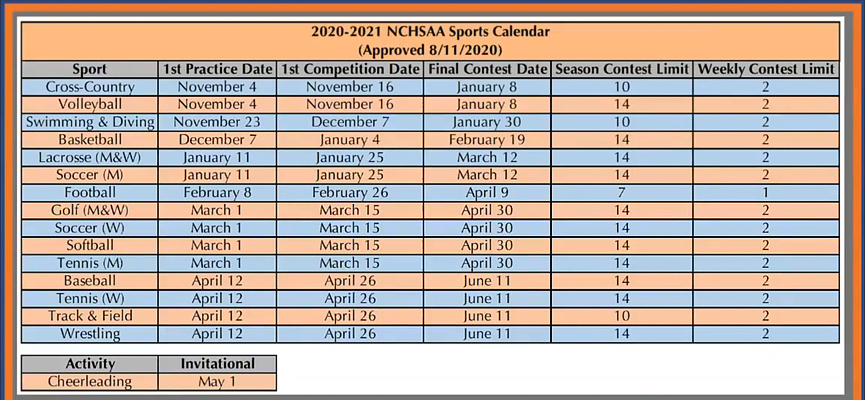 ---
August 9, 2020 – HIGH SCHOOL SPORTS NATIONWIDE
Based on information gathered by the National Federation of State High School Athletic Associations and other internet sources as of Saturday, August 8. All information is subject to change (it probably will and possibly has already).
Twenty-one states* plan to begin the fall sports season either as originally scheduled or with minor delays of 1-2 weeks. (Including Michigan which plans to re-evaluate their situation this week.)
Sixteen states** have delayed the start of some or all sports until September or October.
Seven states have postponed all sports until December or later. Those are VA, CA, OR, HI, MD, DE and NV.
In three states (NM, CO, IL), some sports will take place in the fall but football and soccer have been postponed until spring and a fourth state (MN) has postponed football and volleyball until spring.
Ohio and Pennsylvania were expected to make decisions soon.
*21 States planning to begin more-or-less as scheduled: AK, AL, AR, CT, FL, ID, IN, IA, KS, MI, MO, MS, MT, NE, ND, OK, SD, TN, UT, WV and WY.
**16 States planning on a delayed start for some or all sports: AZ, GA, KY, LA, MA, ME, NC, NH, NJ, NY, RI, SC, TX, VT, WA and WI.
---
August 6, 2020 – NCHSAA ANNOUNCEMENT
According to James Alverson, Assistant Commissioner for Media Relations, the state association notified all of it's member schools this morning that the "NCHSAA Staff and Board of Directors will review all available options, seek input from SMAC, DPI, a sports Ad Hoc Committee, and announce a calendar for playing sports during the upcoming school year. It is hoped that we can make this announcement prior to August 17, 2020."
This follows the announcement yesterday by Governor Cooper that North Carolina will remain in Phase Two of the reopening plan until at least September 11.
---
August 5, 2020 – NC 3 BASEBALL
The 2020 NC 3 American League Baseball season concluded tonight with Lexington-Davidson playing at High Point-Thomasville. The Junior Hi Toms got a 6-1 win in the finale.
.
FINAL STANDINGS

LEAGUE

ALL

W

L

W

L

H

IGH

P

OINT

-T

HOMASVILLE

17
3
20
4

ROWAN COUNTY

14
6
25
8

UNION COUNTY

11
6
11
8

GREENSBORO

11
7
12
10

RANDOLPH COUNTY

11
9
16
14

LEXINGTON-DAVIDSON

9
8
10
10

MOCKSVILLE

9
11
12
14

KANNAPOLIS

8
12
9
14

STANLY COUNTY

6
12
6
13

CONCORD

6
13
7
14

MOUNT AIRY

0
15
0
17
Season results can be found on the NC 3 PAGE.